As it is approaching the end of April..this means it's time to actually start on all the papers and projects I've been procrastinating on. But aside from that, I've had a very eventful past two weeks since being back! Last weekend I was fortunate enough for my cousin Bryana to come visit me in Manchester! She is currently studying at a University in London & I've been able to see her the few times I've been to London which has been so cool. But it was such a treat for her to visit me at my school & to be able to show her around the town and what I do every day. We spent the weekend exploring the Manchester, visiting a massive mall, checking out the night scene, & of course trying a lot of different food. It was an unforgettable experience and I find it so cool to say that we were both able to hang out and make memories in another country together.
This past week, Manchester has been blessed with SUNSHINE! Since being here, I kind of forgot that sunshine existed. It was high 50's, low 60's, & not a cloud in the sky. I finally got to break out my sandals! This weather brought a whole different feel to campus which was really cool to observe. Everybody was sitting outside in the grass, at picnic tables, listening to music & doing homework. This was such a nice change and I'm hoping for the weather to stay this way for awhile.
On Tuesday
, Amanda & I decided to plan a last minute trip to Germany from
Thursday
-
Sunday
night! (That's another thing I love about being here. Planning trips to other countries, even super last minute, still aren't as expensive as if you were to leave from the US).
Thursday
afternoon we made our way to the airport and landed in Berlin later that night. We met a really nice guy while waiting for the train who helped us navigate to our hostel. My first impression wasn't the best (especially since it was dark, & I was lost and tired), but we had multiple drunks approach us while navigating to the hostel which was quite unnerving. This was our first time staying at a hostel, so it was a new experience for us. We stayed in a 4 bedroom room, so we were going to have 2 random people as our other roommates; which was a little strange to me. But we met a really nice guy from Poland, so it was cool to be able to talk to him and learn more about where he's from.
We got up
on Friday
and made our way to see the Brandenburg Gate, which was neat to see in person. We were lucky with beautiful, sunny weather most of the weekend! (except
Sunday
). We took our typical touristy pictures, made an appointment at the Reichstag for the following day, to go up to the dome and overlook the city. We ended this day by having dinner on a rooftop bar, which was spectacular. When we sat down to eat, we made sure to ask the waitress if they had a 'card minimum', since that is a very popular thing here. She told us no, so we placed our order and enjoyed the view while we waited for our food. (side note, they played sweet home Alabama over the speakers at this restaurant...in the middle of Germany..I couldn't believe it). After our yummy bratwurst, we went to go pay and we handed her our cards and in a thick german accent she says "no! no cards!" I said "I asked you in the beginning about card minimum and you said no?" She then said "No, I said no card!" But all was okay because she led us down to an ATM to take out cash. It just gave us quite the chuckle because Germans are just very blunt & to the point.
Saturday
morning started off with another funny experience. Amanda & I stopped at a bakery to get breakfast before visiting the Reichstag. She ordered a sandwich with no tomatoes & I was going to ask for a pastry. Before I could even ask for my pastry, he sets the 2 sandwiches on the counter along with 2 random pastries and charges me 13.50. I tried explaining that I didn't order any of those. The best part was, we get outside to eat our
sandwiches with no tomatoes
, take a big bite & realize there is
tomato paste all over the inside of the sandwich
. Hey, another thing to laugh at. Luckily, there was a Dunkin Donuts next door.
Sunday
was a cold & gloomy day but we spent it
walking the Berlin Wall trail across town
! We started at the East Side Gallery working our way throughout the whole trail until we ended back at Checkpoint Charlie and a nice outdoor exhibit about the wall & saw the part of the wall that was left. That was such a neat experience to be able to see it with your own eyes and read all about the history of what took place during that time. We ended by grabbing another amazing German dinner and getting Haagen Daz for dessert! (we got Haagan Daz every night for dessert on this trip..but it's okay because my Fitbit was blowing up the whole time so we really just burned it straight off..right?).
This trip was filled with a ton of delicious food, loads of laughter & of course adventure. I officially finish with all my school work/classes on
May 11
so I have a whole month of free time to travel/do whatever until my family comes to visit! I'm looking to visit Morocco, southern Italy & Spain before I leave. So far
in 3 months
I have visited 8 countries. I've loved being able to travel so much because it's so fun comparing all the different countries & cities we visit. It's always so interesting to me how each place is unique in its own way.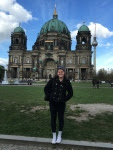 Abigail Koch